The story behind Adobe 
John E. Warnock, PhD – 
Since Dr. John Warnock co-founded Adobe in 1982 with Dr. Charles Geschke, the two have worked closely together to develop a stream of pioneering software products that have established Adobe as leader and innovator in digital experiences across every screen. For nearly three decades, Warnock's vision and passion have been integral to Adobe's success, building the company from a small start-up to one of the largest, most recognized software brands in the world. He was president of Adobe for the company's first two years and CEO for the next 16 years. Warnock retired as CEO in 2000 and as the company's CTO in 2001. He served as chairman of the board from April 1989 to January 2017, sharing that position with Geschke from September 1997 onwards. Today, he remains a member of Adobe's board of directors. Before co-founding Adobe, Warnock was a principal scientist at Xerox Palo Alto Research Center. Prior to joining Xerox, he held key positions at Evans & Sutherland Computer Corporation, Computer Sciences Corporation, IBM and the University of Utah
….
In his 1969 doctoral thesis, Warnock invented the Warnock algorithm for hidden surface determination in computer graphics.[4] It works by recursive subdivision of a scene until areas are obtained that are trivial to compute. It solves the problem of rendering a complicated image by avoiding the problem. If the scene is simple enough to compute then it is rendered; otherwise it is divided into smaller parts and the process is repeated.[5] Warnock notes that for this work he received "the dubious distinction of having written the shortest doctoral thesis in University of Utah history".[1]
In 1976, while Warnock worked at Evans & Sutherland, a Salt Lake City-based computer graphics company, the concepts of the PostScript language were seeded. Prior to co-founding Adobe, with Geschke and Putman, Warnock worked with Geschke at Xerox's Palo Alto Research Center (Xerox PARC), where he had started in 1978. Unable to convince Xerox management of the approach to commercialize the InterPress graphics language for controlling printing, he, together with Geschke and Putman, left Xerox to start Adobe in 1982. At their new company, they developed an equivalent technology, PostScript, from scratch, and brought it to market for Apple's LaserWriter in 1985.
In the spring of 1991, Warnock outlined a system called "Camelot",[6] that evolved into the Portable Document Format (PDF) file-format. The goal of Camelot was to "effectively capture documents from any application, send electronic versions of these documents anywhere, and view and print these documents on any machines". Warnock's document contemplated:
Imagine if the IPS (Interchange PostScript) viewer is also equipped with text searching capabilities. In this case the user could find all documents that contain a certain word or phrase, and then view that word or phrase in context within the document. Entire libraries could be archived in electronic form…
One of Adobe's popular typefaces, Warnock, is named after him.
Adobe's PostScript technology made it easier to print text and images from a computer, revolutionizing media and publishing in the 1980s.
In 2003, Warnock and his wife donated 200,000 shares of Adobe Systems (valued at over $5.7 million)[7] to the University of Utah as the main gift for a new engineering building. The John E. and Marva M. Warnock Engineering Building was completed in 2007 and houses the Scientific Computing and Imaging Institute and the Dean of the University of Utah College of Engineering.
Dr. Warnock holds seven patents. In addition to Adobe Systems, he serves or has served on the board of directors at ebrary, Knight-Ridder, MongoNet, Netscape Communications and Salon Media Group. Warnock is a past Chairman of the Tech Museum of Innovation in San Jose. He also serves on the Board of Trustees of the American Film Institute and the Sundance Institute.
---
The story behind Adobe Illustrator – Part II
---
---
---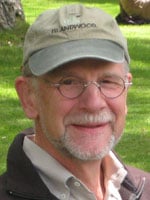 Aldus Pagemaker
The US company Aldus Corporation was founded in February 1984 in Seattle, Washington, by Paul Brainerd (b. 1947). Brainerd has a graduate degree in journalism at the University of Minnesota and worked at the Minneapolis newspaper Star and Tribune. In 1980 he joined Atex in Redmond, Washington, a company that sold computer-assisted publishing equipment to the newspaper industry. In 1983, the plant was closed, thus Brainerd and five other Atex engineers decided to stay in the Pacific Northwest and start up their own company.
Brainerd and his partners decided to name their company Aldus, after Aldus Pius Manutius (Teobaldo Mannucci) (1449–1515), a famous fifteenth-century Venetian pioneer in publishing, known for standardizing the rules of punctuation and also presenting several typefaces, including the first italic. Manutius went on to found the first modern publishing house, the Aldine Press.
The flagship program of Aldus Co—PageMaker was released in July 1985. This groundbreaking program was the first ever desktop publishing application and revolutionized the use of personal computers, virtually creating the desktop publishing industry. The term desktop publishing was itself coined by Brainerd.
PageMaker relied on a graphical user interface, and was initially for the then new Apple Macintosh, in 1987 for PCs running the then new Windows 1.0. PageMaker relies on Adobe Systems' PostScript page description language. Suddenly anyone could design brochures. Publishers had to become computer literate, and Apple started selling Macs and LaserWriters in large numbers. Aldus helped Apple to market its hardware to customers who wanted desktop publishing capabilities. In return, Apple featured Aldus's software in much of its advertising, and also helped the fledgling company distribute its program.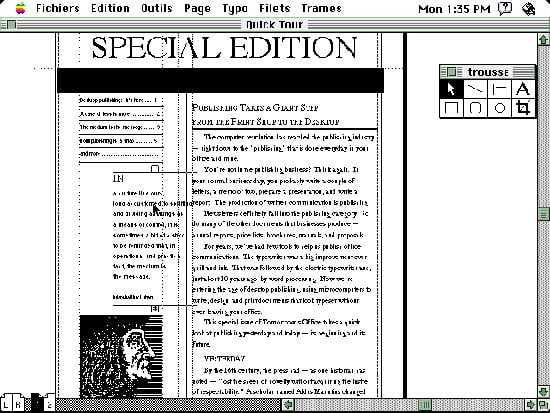 ---
Adobe Photoshop
Photoshop was developed in 1987 by two brothers Thomas and John Knoll, who sold the distribution license to Adobe Systems Incorporated in 1988. Thomas Knoll, a Ph.D. student at the University of Michigan, began writing a program on his Macintosh Plus to display grayscale images on a monochrome display. This program (at that time called Display) caught the attention of his brother John, an Industrial Light & Magic employee, who recommended that Thomas turn it into a full-fledged image editing program. Thomas took a six-month break from his studies in 1988 to collaborate with his brother on the program. Thomas renamed the program ImagePro, but the name was already taken.[7] Later that year, Thomas renamed his program Photoshop and worked out a short-term deal with scanner manufacturer Barneyscan to distribute copies of the program with a slide scanner; a "total of about 200 copies of Photoshop were shipped" this way.[8][9]
During this time, John traveled to Silicon Valley and gave a demonstration of the program to engineers at Apple and Russell Brown, art director at Adobe. Both showings were successful, and Adobe decided to purchase the license to distribute in September 1988.[7] While John worked on plug-ins in California, Thomas remained in Ann Arbor writing code. Photoshop 1.0 was released on February 19, 1990 for Macintosh exclusively.[10][11] The Barneyscan version included advanced color editing features that were stripped from the first Adobe shipped version. The handling of color slowly improved with each release from Adobe and Photoshop quickly became the industry standard in digital color editing. At the time Photoshop 1.0 was released, digital retouching on dedicated high-end systems (such as the Scitex) cost around $300 an hour for basic photo retouching. The list price of Photoshop 1.0 for Macintosh in 1990 was $895.[12][13]
Photoshop was initially only available on Macintosh. In 1993, Adobe chief architect Seetharaman Narayanan ported Photoshop to Microsoft Windows. The Windows port led to Photoshop reaching a wider mass market audience as Microsoft's global reach expanded within the next few years.[14]
https://en.wikipedia.org/wiki/Adobe_Photoshop
---
John Knoll – 
John Knoll (born October 6, 1962) is an American visual effects supervisor and chief creative officer (CCO) at Industrial Light & Magic (ILM).[1] One of the original creators of Adobe Photoshop (along with his brother, Thomas Knoll), he has also worked as visual effects supervisor on the Star Wars prequels and the 1997 special editions of the original trilogy. He also served as ILM's visual effects supervisor for Star Trek Generations and Star Trek: First Contact, as well as the Pirates of the Caribbean series. Along with Hal Hickel, Charles Gibson and Allen Hall, Knoll and the trio's work on Pirates of the Caribbean: Dead Man's Chest earned them the Academy Award for Best Visual Effects.[2]
---
---
Digital Designers –
The digital design work of American Susan Kare marks a significant milestone in the history of modern design. GSM takes a look at her career…
If you were about in the 1980s, you probably remember the first Apple Macintosh. It was a truly ground-breaking product that went on to become a global phenomenon. The success of the first Apple Mac was thanks to the adoption of the Graphical User Interface (GUI). The GUI hid the lines of system code to 'de-geek' the technology for the average home user. Today, we take GUI for granted, but in the 1980s—Mac OS System 1 was revolutionary. This shift required the design of a completely new visual-based language. One that was limited by the significant technical constraints of the time and on which there was no precedent. One of the pioneering creative minds who led the charge in this new digital medium was Susan Kare.
From Fine Art to Digital Design
Susan Kare's interest in graphic design began when she scored a student job at The Franklin Institute Science Museum in Philadelphia. She was assistant to exhibition designer Harry Loucks. Susan then went on to study at the Mount Holyoke College. She later earned a Ph.D. in art at New York University. Following graduation, Susan relocated to work at the Fine Arts Museums of San Francisco (FAMSF).
Everything changed when an old high school friend, Andy Hertzfeld, mentioned he was working as a software developer for Apple. Andy was working on a new type of computer called the Macintosh. They recruited Susan to help develop the interface graphics and fonts for what was to become 'Mac OS System 1'. She later worked as a Creative Director in Apple Creative Services.
https://www.gsmmagazine.co/susan-kare-digital-design/
---
Eddie Opara
Born in London in 1972, Eddie Opara studied graphic design at the London College of Printing and Yale University. He worked at ATG, Imaginary Forces and 2×4 before founding his own firm, The Map Office in 2005. Opara has created work for the Studio Museum in Harlem, Jazz at Lincoln Center, the Queens Museum of Art, JWT, Prada, Vitra, the Corcoran Group, Morgan Stanley, New York University, UCLA, and Princeton Architectural Press, among others. In 2010 Opara joined Pentagram's New York office, bringing his designers from The Map Office with him. At Pentagram, Opara has continued to bring his impressive mix of interactive, print and web skills to projects for The Museum Tower, CFDA, Oprah Winfrey, The Andy Warhol Foundation and SCAD Museum of Art.
http://www.complex.com/style/2012/03/20-graphic-designers-you-should-know/21
---
Michael Bierut
Despite Michael Bierut's iconic status and his over 30 years of success, he is still the humble, gracious, mid-westerner who began studying design at the University of Cincinnati's College of Design, Architecture, Art and Planning. Bierut's pedigree starts early, with his first internship with AIGA medalist Chris Pullman. After school, Bierut landed his first job, and an enviable one at that, at the prestigious Vignelli Associates design firm, where he would eventually become VP of Design. He worked on clients such as Benetton and United Airlines.
John Maeda
When John Maeda became the President of the Rhode Island School of Design, he was asked if he was going to bring RISD into the future. His response? "I'm going to bring the future back to RISD."
Echoing his belief that the goal of technology is to simplify our lives, not make them more complex, Maeda is a major thought leader in the field of digital design. In the past, Maeda has worked as a professor and head of research at the MIT Media Lab in addition to his role at RISD. Recently, he became a Design Partner at Kleiner Perkins Caufield & Byers – a venture capital firm in Silicon Valley and now chairs the eBay Design Advisory Council.
---
Chuck Anderson
Khoi Vinh
Debbie Millman
Debbie Millman is best known as the host of the Design Observer podcast Design Matters. When she isn't interviewing design luminaries, Millman is directing design as president of Sterling Brands – where she's worked on the redesign of over 200 global brands including Nestle and Pepsi.
---
Clement Mok
2008 AIGA MEDAL
Clement Mok's many achievements are not easy to pin down. Designer. Publisher. Educator. Entrepreneur. CEO. Visionary. Mok "gets" technology in the way few designers do. One of the most entrepreneurial designers working today, Mok does not merely use digital tools—he makes them.
Mok hit the ground running, from his early days as an art director at Apple Computer to his current role as principal of The Office of Clement Mok. He absorbed an entrepreneurial mindset nearly from the start. "At Apple we believed we were given a mandate to change the world," Mok remembers. "Technology was an enabler. At Apple you weren't merely a designer. You were a Silicon Valley startup with a skill in design."
---
Hillman Curtis
https://vimeo.com/hillmancurtis